9/11 Coloring Book: A Day We Remember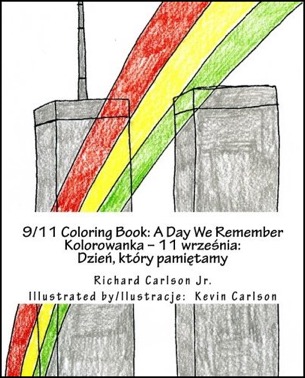 English / Polish Edition
About the Book:
Rated PG. Parental guidance suggested.
9/11 Coloring Book: A Day We Remember teaches children about the tragic events of September 11, 2001. It is beautifully illustrated by artist and autistic Kevin Carlson, whose style of drawing has delighted children in several other books.
Informacje o kolorowance:
Oznaczenie symbolem PG. Zalecany nadzór rodziców.
Kolorowanka – 11 września: Dzień, który pamiętamy opowiada dzieciom o tragicznych wydarzeniach z 11 września 2001 r. Zawiera piękne ilustracje autorstwa Kevina Carlsona, którego rysunki zamieszczone w innych książkach cieszą się dużą popularnością wśród najmłodszych.
About the Author and Illustrator:
Richard Carlson Jr. is a writer of children's and young adult romance books. He lives in Tucson, Arizona. Challenged by paranoid schizophrenia and obsessive-compulsive disorder, he does his best to stay well.
Artist Kevin Carlson drew the illustrations for 9/11 Coloring Book: A Day We Remember. He has classic autism and lives in an assisted living arrangement with an autistic roommate in Tucson, Arizona. He works at a crafts store that employs the handicapped and is supervised by non-handicapped personnel.
The author and illustrator have an uncle who survived 9/11. He was in the first World Trade Center Tower to be struck by an airliner and was on a story close to but right below the impact. He immediately evacuated the building and left the area. We are so grateful that he survived, but honor and regret the loss of those who did not survive, and the families and friends who were hurt by this tragedy.
Informacje o autorze i ilustratorze:
Richard Carlson Jr. jest autorem książek o miłości dla dzieci i młodzieży. Mieszka w Tucson w stanie Arizona. Autor dotknięty schizofrenią i zaburzeniami obsesyjno-kompulsywnymi ze wszystkich sił stara się, aby jego zdrowie nie uległo pogorszeniu.
Autorem ilustracji do książki Kolorowanka – 11 września: Dzień, który pamiętamy jest Kevin Carlson. Cierpiący na autyzm Kevin dzieli wraz z drugą chorą na autyzm osobą pokój w ośrodku opiekuńczym. Pracuje w pracowni rzemieślniczej zatrudniającym osoby niepełnosprawne, nad którymi nadzór sprawują pracownicy zdrowi.
Wujek braci Carlson przeżył zamach z 11 września. W czasie uderzenia samolotu znajdował się w pierwszej z wież Światowego Centrum Handlu na piętrze mieszczącym się tuż pod miejscem zdarzenia. Natychmiast ewakuował się z budynku i opuścił zagrożony obszar. Jesteśmy wdzięczni za to, że przeżył, pragniemy jednak oddać hołd ofiarom tragedii i złożyć wyrazy współczucia rodzinom i przyjaciołom, którzy ucierpieli na skutek śmierci bliskich.
Order Online Today!
Amazon.com
Amazon.co.uk
Amazon.ca
Amazon.co.jp