Oorleef Skisofrenie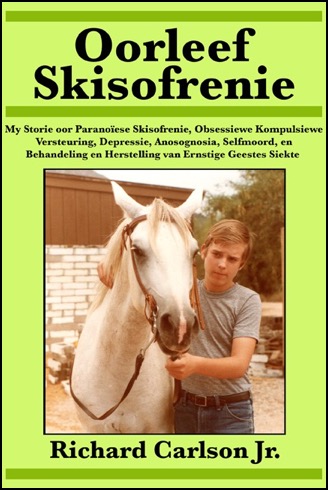 Vertaal deur Adri de Necker
Oor die Boek:
Richard Carlson Jr. was gediagnoseer met paranoïese skisofrenie toe hy een – en – twintig jaar oud was. Sy siekte het begin toe hy in vroeë adolessensie was. Moderne psigiatrie het Richard oor 'n dekade misluk. Toe, na 'n insident met die polisie het hy regtig verstaan dat sy diagnose werklik is, en het uiteindelik die lang proses om te herstel begin. Meer as tien jaar later het sy lewe geweldig verbeter. Saam met sy behandeling het Richard ook herstel van depressie, obsessiewe – kompulsiewe – versteuring, en lusteloosheid.
Moenie dat dit wat met Richard gebeur het, met jou, 'n geliefde, of 'n pasiënt met ernstige geestes siektes gebeur nie. Wees altyd eerlik met mekaar, en met jou psigiater. Vir pasiënte, familie lede, versorgers, studente, en mediese professionele mense wat graag meer wil leer, besoek www.survivingschizophrenia.com.
Oor die Skrywer:
Richard Carlson Jr. is 'n skrywer van kinder boeke en mondigwording romanse. Hy is 'n hoogs sensitiewe persoon, of HSP, en het paranoïese skisofrenie en obsessiewe - kompulsiewe versteuring. Jy kan meer oor hom leer by www.rich.center.
Kry hierdie boek nou!
Amazon.com
Amazon.co.uk
Amazon.ca
Amazon.com.au
Amazon.co.jp